It's important for every goat owner to know what their goats need to thrive and to know how your goats will tell you when they're not getting what they need. You can't just ask someone what they do and copy it. This course will NOT lay out a one-size-fits-all supplementation plan for everyone's herd. That's because what works in one herd could cause goats to die in another herd -- and it has happened. Now, before I scare you off, let me quickly say that figuring out how to supplement your goats is not hard. Your goats will tell you what they need. You just need to have the information so that you can understand what they're telling you. Do you know what your goats are telling you when ...
does have slow, sluggish labors
does don't pass their placentas for more than 24 hours after birth
bucks don't get does pregnant
does give birth prematurely to kids too small to survive
goats' coats are faded so that a black goat looks red, a red goat is cream, and a cream goat is snow white
goats are foaming at the mouth
goats are balding on their face, especially on the bridge of their noses or around their eyes
goats die from a relatively small load of internal parasites
You may think that there are drugs to treat these problems, and there are for some of them, but as a very wise old veterinarian once told me, drugs force the appearance of wellness in a sick animal. Even if the drugs cause the symptoms to disappear for awhile, you still have a goat that is not producing at its optimal level. That old vet also told me, "I've seen people go broke successfully treating sick animals." So, what's the answer?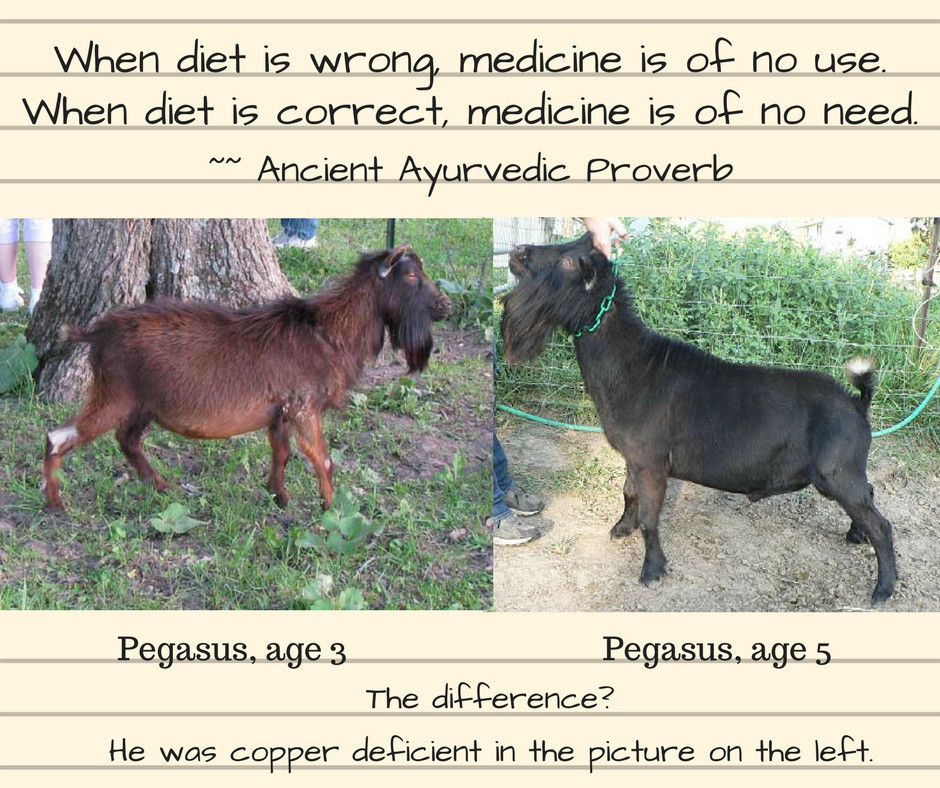 Proper nutrition and supplementation
If you get nutrition right, everything else falls into place. If you get it wrong, you will have a world of heartache. All of the problems listed above are caused by a variety of nutritional deficiencies in either copper, selenium, calcium, or zinc. And that's just the beginning. Feeding choices, such as rotational grazing, browsing, hay, and grain choices affect your goats' health, as well as water and which minerals you provide and how you provide them.
In this course, you'll learn:
how to read nutritional labels on goat feed and minerals
which mineral should NOT be in your mixed minerals
how well water can affect nutrient deficiencies
symptoms of various nutrient deficiences
pros and cons of various copper supplementation options
Who provides copper supplements for goats in the wild?
The problem with that question is that domesticated goats in most parts of North America are not living in a natural environment. Once we put up fences, we've stopped them from being able to look for what they need. Unfortunately for most of us, goats' natural environment is a desert or the mountains. Goats never lived in the wild on the prairie. We don't have an abundance of evergreens and browse for them to eat year-round. We don't have exposed mineral deposits in rocks that they can lick. Plus, many of us are giving them water to drink that was pumped up from a hundred feet below the ground, which is high in minerals that throw everything off balance.