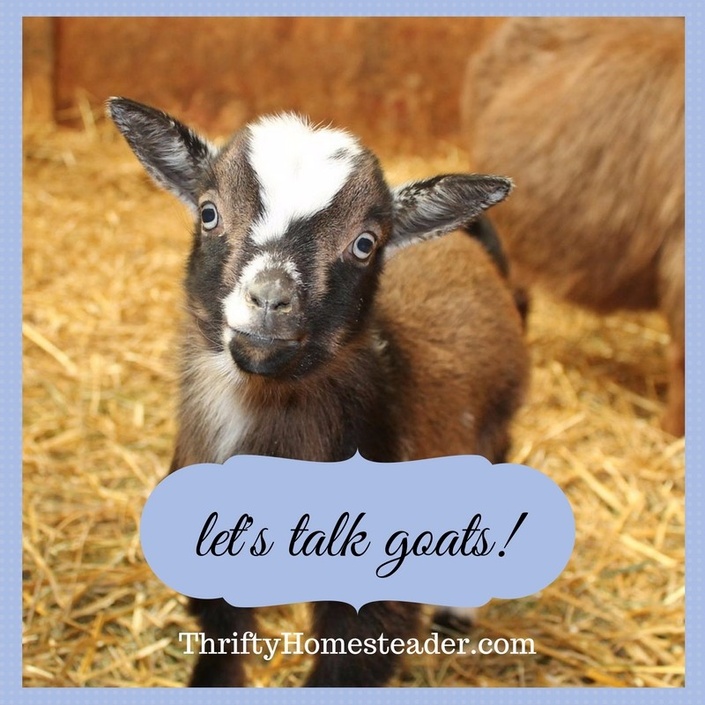 Goat Basics
How to Get Started With Goats Without Going Broke
Whether you have a couple of pet wethers or you're thinking about bringing a few milkers into your life, this class will teach you what you need to know to keep them healthy and happy with proper housing and suitable fencing. You'll also learn how to decipher a goat pedigree and discover smart buying tips.
Are you worried that your goats will freeze over the winter?

Have you heard that goats are a challenge to keep fenced in?

Where's the best place to buy a livestock guardian?

What type of animal will work best to guard the goats on your farm? Dog, llama, or donkey?

Do pedigrees confuse you? (What's the difference between a buck with a *B and a +S?)

Do you know how much noise you should hear when you listen to a goat's rumen?

What does normal goat poop look like?

What should you do -- and NOT do -- when two goats are fighting?

Do you know if your goat is underweight, overweight, or just right?
In this course, you'll learn the answers to all of those questions and more! Through lectures and videos, you will learn information that I learned the hard way. I wasted hundreds of dollars in the early years, buying too many things from catalogs that sounded like I needed them.
Gain confidence that your goats won't drop dead tomorrow OR be running all over the countryside.
Save money AND keep your goats healthier by not overbuilding your goat housing.
Save time by not searching the Internet and trying to weed through a dozen opinions.

Your Instructor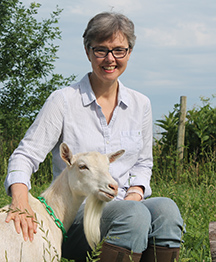 In 2002, Deborah and her family moved to 32 acres on a creek in the middle of nowhere to grow their own food organically. With the help of goats, sheep, pigs, and poultry, they produce 100% of their meat, eggs, and dairy products, as well as a large percentage of their vegetables, fruit, and herbs. They sold chickens and turkeys for more than 10 years, and are currently a licensed egg producer in Illinois and sell eggs to a grocery store and through a CSA.
Deborah is the author of six books, including Homegrown and Handmade, Ecothrifty, and Raising Goats Naturally, as well as her latest book, Goats Giving Birth. She also teaches sustainable agriculture courses online for the University of Massachusetts - Amherst. She has been teaching Raising Dairy Goats Sustainably since 2013 and Pastured Poultry since 2015.
In 2022, Deborah got certified as a FAMACHA instructor so that she and her students could feel confident that she was providing the most up-to-date information on parasite research and management.


Deborah has been helping people raise goats for more than a decade, in person, online, and through her books ...

"These courses, Goats 101 & Copper Deficiency, are so informative. Helps you to listen to your goats and give them what they need. Instructor replies to comments quickly & with ideas that help. I wholeheartedly recommend anyone with goats to enroll and learn. "
- Lisa Cotter, Nova Scotia, Canada
"In 2010, when I first considered getting goats, I was fortunate to find Deborah's goat group, NigerianDwarfGoats.ning.com. I spent many hours there reading through the archives and learned a lot. Being able to freely ask questions was extremely helpful. Since then, I have joined various facebook groups, but this site is always my go-to site for accurate answers and the best up-to-date information. Deborah is very much abreast on the latest information which is so very important. "
- Glenna R. Bowman, Vancouver, WA
"After having discovered Deborah's Nigerian dwarf goat forum and purchasing her book, I found myself relying on Deborah as my online goat mentor. When I had a mini-crisis with my goats, Deborah came to my rescue and helped me pull through it with her knowledge and expertise. She has been immeasurably important in my journey with goats."
- Julia Stephens, Asheville, NC
Frequently Asked Questions
When does the course start and finish?
The course starts now and never ends! It is a completely self-paced online course - you decide when you start and when you finish.
How long do I have access to the course?
How does lifetime access sound? After enrolling, you have unlimited access to this course for as long as you like - across any and all devices you own. This also means that you will have access to all upgrades, additions, and improvements added to the course at no additional charge!
Is college credit or certification available after completion of this course?
No. This course is for your own personal education. However, if you are interested in college credit or certification, Deborah also teaches Raising Dairy Goats Sustainably through the University of Massachusetts - Amherst online.
Are there quizzes or tests?
There are no required tests. The only quizzes are auto-graded and were created to help reinforce your understanding of a few confusing concepts, such as reading a pedigree.
Can I ask questions?
We hope you will! Each lesson has a discussion board, and Deborah will respond to all questions personally.