Raising goats without losing your mind ...No one ever said raising goats was easy, but it doesn't have to cost a fortune or drive you crazy! You just need the right information. Unfortunately you may have noticed that there is a ton of conflicting information out there about goats.
What if you could ...
Spend time with your goats without worrying, "Is that normal?"
Feel confident that you're following the latest guidelines on parasite control in goats
Incorporate goat products into your sustainable homestead by fully utilizing their manure, milk, meat, and more
Save money on groceries and reduce artificial ingredients by making your own cheese, yogurt, ice cream, and soap
Make money by selling your goat products
And what if you could do it all without spending a fortune on drugs, supplements, and equipment
The goal of Goats 365 is to cut through the clutter and give you the information you need. Your membership includes access to 5 courses:
Goat Basics

Buying goats
Fencing
Housing
Feeding
Minerals
Life with Goats

Parasites in Goats

Myths about worms and deworming
The latest research-based recommendations on using dewormers
Interviews with leading parasitologists, researchers, and professors
Alternative dewormers that work and those that don't
Genetics and parasites
Rotational grazing
Bibliography of research

The Home Dairy

How to milk a goat -- even if it has tiny teats!
Milk handling and storage
Making chevre
Making queso blanco
Making mozzarella
Making yogurt
Making cheddar
Making parmesan
Making gouda

Soapmaking

How to create your own recipes
Soapmaking ingredients
Equipment needed
Essential oils in soapmaking
How to make your own molds
Step-by-step video in cold process soapmaking

Homestead Businesses

Choosing a homestead business
Liability and legal issues to consider
Marketing your homestead business
How to use Facebook for growing your business
How to create beautiful graphics for free
With new videos added every month!

Go Premium + Get Unlimited Text Support
You can become a member at the basic level if you just want to access the courses and work through them on your own time. However, if you want a virtual mentor and you prefer learning in a live environment, you can subscribe at the Premium level. That means you will have access to ...
TWO monthly Q&A video calls on Zoom -- one in the evening and one during the day -- You can take your phone out to your barn and show me something that you have a question about, or you can "attend" from the comfort of your computer and simply ask questions or lurk and listen to everyone else's questions and answers.
Text support -- You will get my phone number and can text me with questions as they come up. (Please note that this does not replace your need to have a veterinarian. I will be your virtual mentor, not your virtual vet.)
Your Instructor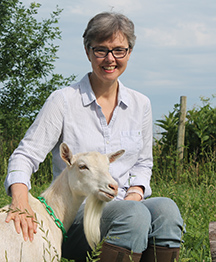 In 2002, Deborah and her family moved to 32 aces on a creek in the middle of nowhere to grow their own food organically. With the help of goats, sheep, pigs, and poultry, they produce 100% of their meat, eggs, and dairy products, as well as a large percentage of their vegetables, fruit, and herbs. Deborah is the author of six books, including Homegrown and Handmade, Ecothrifty, and Raising Goats Naturally, as well as her latest book, Goats Giving Birth. She also teaches sustainable agriculture courses online for the University of Massachusetts - Amherst. She has been teaching Raising Dairy Goats Sustainably since 2013 and Pastured Poultry since 2015.


What do people have to say about Deborah's online classes, her writing, and her mentorship?

"Deborah's videos are extremely informative and well worth the money! I have learned so much from Deborah, and being able to go back and watch the videos over and over, I pick up on something each time that I missed the time before. Keep the videos coming!"
- Teresa Cole - Tomball, Texas

"These courses, Goats 101 & Copper Deficiency, are so informative. Helps you to listen to your goats and give them what they need. Deborah replies to comments quickly & with ideas that help. I wholeheartedly recommend anyone with goats to enroll and learn."
- Lisa Cotter, Nova Scotia, Canada
"In 2010, when I first considered getting goats, I was fortunate to find Deborah's goat group, NigerianDwarfGoats.ning.com. I spent many hours there reading through the archives and learned a lot. Being able to freely ask questions was extremely helpful. Since then, I have joined various Facebook groups, but this site is always my go-to site for accurate answers and the best up-to-date information. Deborah is very much abreast on the latest information which is so very important. "
- Glenna R. Bowman, Vancouver, WA
"After having discovered Deborah's Nigerian dwarf goat forum and purchasing her book, I found myself relying on Deborah as my online goat mentor. When I had a mini-crisis with my goats, Deborah came to my rescue and helped me pull through it with her knowledge and expertise. She has been immeasurably important in my journey with goats."
- Julia Stephens, Asheville, NC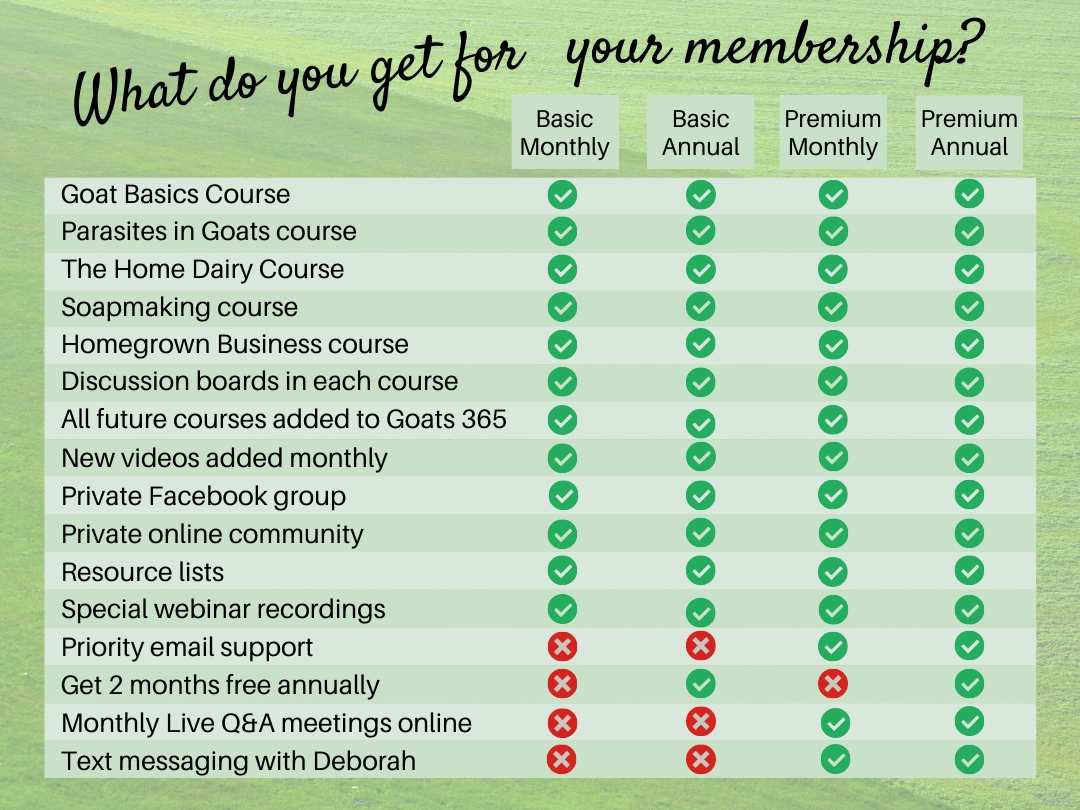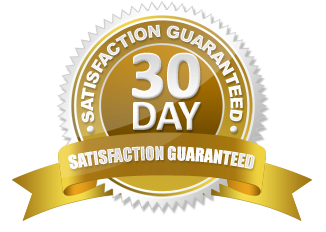 What happens when you enroll?
You'll get immediate access to the membership site and all five courses.

You'll receive an email with a link to the private Facebook group and the private online community.




If you've chosen the Premium membership, you'll get my phone number, as well as the dates and login info for the upcoming Q&As and webinars.

You'll receive a monthly email telling you what new videos and other material has been added to the site.
Frequently Asked Questions
How long does my membership last?
You choose whether you want to have a monthly or annual membership. After enrolling, you have unlimited access to the membership site, monthly webinars, and courses for as long as you keep your subscription up to date. You can access the site on any and all devices you own.
Can I get a refund if I am unhappy with my membership?
If you decide within the first 30 days of your membership that it's not what you had hoped, your purchase is protected by our 100% satisfaction guarantee. Just send us an email and let us know that you'd like a refund.
What do I do if I want to discontinue my membership?
If you decide that membership is no longer for you after a few months or a few years, you can simply unsubscribe with three clicks. Just click on your photo in the upper right hand corner of your screen and click on "Manage Subscriptions." Edit your subscription to unsubscribe, and your credit card will not be charged again. (Or you can email
[email protected]
at any time to unsubscribe.)
How do I access the courses?
After you sign up, you'll receive an email with instructions on creating your account, as well as how to navigate inside the course and how to unsubscribe. If you have taken any of my other courses (including free courses), this uses the same platform, so you should feel right at home!
How will I learn about the webinars and new videos?
I'll send you a monthly email with links to new videos in the courses, as well as information on the webinar for that month.
How do I access the private community and the Facebook group -- and why are there two groups? Can I join both?
I'll send you a link to join each one as soon as you sign up! I have a private Facebook group already for my students, so it makes sense that I'd continue to use it, but not everyone is on Facebook or wants to join. So, I created a private group that is entirely non-commercial, so there are no ads, and no one can find the group unless they have the URL.
How long does the subscription price last?
By subscribing now, you lock in the current rate you pay, whether you go with monthly or annual membership, basic or premium. You are insulated from future price increases as long as your membership stays current.